Vintage Style Game Coming With Olde Wrestling Extravaganza!
Categories: Company News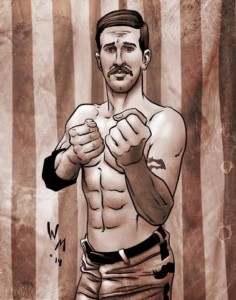 Things keep getting more interesting! We're excited to announce the newest promotion to join our growing lineup of Independent wrestling games, Olde Wrestling! For those that are not familiar with the concept of Olde Wrestling, it is a 1920's style reenactment wrestling show. They feature many independent wrestlers from the Midwest and East Coast that have Old Timey gimmicks, or have them don new gimmicks to fit the theme. One of the biggest feuds is between the Prohibitionists and the Moonshiners. The atmosphere of the show emulates the traveling carnival style show you prodajem viagru cialis would have seen in the day, and wrestlers are played to the ring by a Rag Time Band. The first competitor in the set is the "Handle-barred Haberdasher" himself Marion Fontaine. otcviagra-norxpharmacy Marion is a throwback to the mustachioed pugilists of the early 1900's. Fontaine will mix it up with anyone but always offers his hand before and after the match to demonstrate the ideal of good sportsmanship. Whether promoters decide to team him up with his fellow gentlemanly partner Jervis Cottonbelly against other Independent teams, or test his mettle against
vintage Legends like Frank Gotch or the Terrible Turk, Marion Fontaine is sure to put on a good show. Huzzah! The Olde Wrestling Extravaganza expansion set will feature 4 playing cards with all artwork colored in sepia tone to emulate vintage pictures. This unique game edition will be available at their second Annual "Extravaganza of Wrestling Exhibitions" on September 28th in Norwalk, OH. It will purchase viagra then be available shortly after to everyone! Keep compare viagra prices an eye out throughout the month of September for more sneak peaks at the artwork cialis and information on how to preorder these unique wrestling cards! For more information on Olde Wrestling, go here!