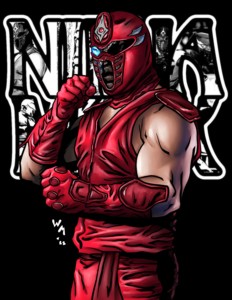 Ninja Mack makes his Filsinger Games debut in the upcoming Best of the Indies 2022!
Ninja Mack has made quite the name for himself on the indie circuit over the past few years with a high flying style backed up by a legitimate martial arts and MMA background. After getting his start in 2014, Mack actually stepped away from the ring in 2017 due to the birth of his son and didn't return until the pandemic struck and many promotions were struggling to put on shows. Mack put himself on the map with his death-defying dives and incredible agility and was, in short order, even more of a name than when he went on hiatus. Ninja Mack has traveled promotions throughout the country and made stops in Germany and Mexico. His next big stop is a stay in Japan, traveling the country on the "ark" of wrestling. The sky is certainly the limit for this star – and that may be a very literal statement.
Best of the Indies 2022 will drop in late May – keep an eye on filsingergames.com for pre-order details soon!