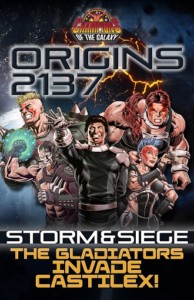 And you can't afford to miss any of them!
This is our best summer of all time. There's the latest expansion ORIGINS 2137 in the Champions of the Galaxy saga featuring an all-out Gladiator war! And don't forget the first-ever Bonus Pack that comes with this expansion!
As if that's not enough there's also the incredible TRAGOS THESZ HALL OF FAME set as part of our Legends of Wrestling Card Game series! It features Roddy Piper, Kurt Angle, Bob Backlund, Gorilla Monsoon, and more. No wrestling fan can live without it!
With all our games you can play the tabletop version or online simulation or both!