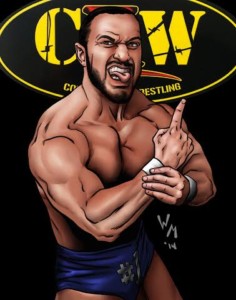 Alex Reynolds and John Silver, better know as the Beaver Boys, are the next two names in the latest CZW game release! The former CZW Tag Team champions are known for their brash and provocative style and high flying abilities. They will certainly look to challenge current CZW Tag Champions
OI4K, to regain the glory of being the top of a competitive CZW Tag Team division. Who will win this big tag battle?
Filsinger Games fans may also remember the Beaver Boys from their roles in the Champions of the Galaxy Live Event as Wolf and Actagon, and in the Legends of Wrestling 6-man tag
team match with Papadon. You can see these matches via download or VOD from Smart Mark Video (details at: http://championsofthegalaxy.com/event.php)
Get ready for Alex Reynolds and John Silver to bring excitement to your CZW fed! Watch for more sneak previews in the weeks ahead ! CZW 3 is set for release on February 25!