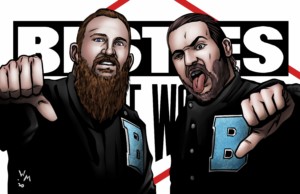 The Best of the Indies Tag team 2020 game edition will debut in late September, featuring 5 of the top tag teams on the Independent scene today.  The second duo in this set is the Besties in the World, Davey Vega and Matt Fitchett.  This is the first Filsinger Games playing card for Fitchett, while Vega was first part of the Absolute Intense Wrestling game edition released in 2015.
The team has been tagging with each other for the better part of the past decade, going through a few team names before being dubbed Besties in the World in 2017.  The Besties have been a staple on the Midwest independent scene, winning gold in a number of top promotions in the region.  But they have also shined on the bigger stage, challenging for the ROH tag team titles in 2018, and challneging for and winning the EVOLVE tag team titles in December 2019.  The duo is sure to delight fans in their hilarious promos, their fun ring entrances and of course throughout their matches with their fluid team work and high-flying artistry.  Which tag team will they challenge first in your indie fed?
Best of the Indies Tag Teams 2020 will include the Besties in the World, Aussie Open and 3 other top indie tag teams.  Be on the lookout each Wednesday through the release in late September for more additions to this set and for the tag wrestlers in Indies Prime this quarter.