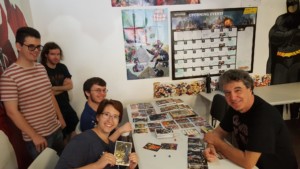 The Dark Menace will hit the road again this summer!
Be sure to stop by at these amazing events to meet Tom, talk about games, play demos,  rap about Stan Lee and all the professional wrestlers Tom has worked with, and just plain have fun!
Here is the schedule and Tom looks forward to seeing you again or meeting you for the first time!
July 13-14 – GalactiCon – Annual Filsinger Games convention will take place at PJ Welihan's Pub & Restaurant, 12 General Warren Blvd, Malvern, PA. 11:00 am to 5:00 pm Saturday and 11:00 am to 2:00 pm Sunday. See more information here.
July 14 – Collector's Corner, 7911 Hartford Road, Parkville, MD (near Baltimore), 4:00-6:00 pm.
July 15 – Gatehouse Games, 218 E. Plank Road, Altoona, PA, 5:00-7:00 pm.
July 16 – Geekadrome, 534 Brookline Blvd, Pittsburgh, PA. 5:00-7:00 pm.
July 19 – Great Lakes Game Emporium, 7249 Center Road, Mentor, OH (near Cleveland). 5:00-7:00 pm.
Tom will be bringing starter sets to play demos as well as the awesome new July releases! This tour is a happening, bigger than a Rolling Stones or Beyonce tour, so you don't want to miss it! (Well, maybe not bigger, but more fun for tabletop game players!)