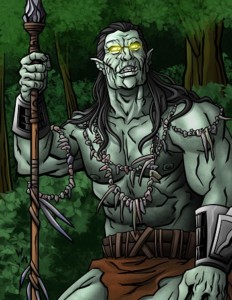 The Natives have some company!
One of their own, THE LOYALIST, will enter the GWF in the most dramatic way possible. He has proved his worth to Godsend himself and is set to join the Castilex team in SUDDEN DEATH 2135.
But who is this guy? What exactly did he do to prove himself to Godsend?
Two of his moves will strike fear in the hearts of his opponents. First is the Native Spear and then his finisher, I STRIKE FOR KINGDOM.
SUDDEN DEATH 2135 will have more surprises than you can shake a spear at! Get ready for some HUGE FIREWORKS on Thursday, July 4 as we unveil more about SUDDEN DEATH 2135. Don't try to figure out what it will be. It's impossible. Just tune in!
In the mean time
preorder SUDDEN DEATH 2135 right now!
  SUDDEN DEATH 2135 and our newest Legends releases will be available for GalactiCon attendees on July 13th and will begin mailing galaxy-wide by July 22nd.