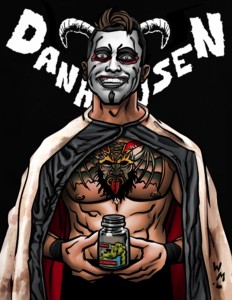 Best of the Indies 2020 just got very evil with the addition of one of the most unique wrestlers on the Indie scene, Danhausen!  Donovan Danhausen got his start on the midwest independents in 2013, but it wasn't until his start with the Production in AIW and his subsequent transformation into the macabre Danhausen that his career really took off.  Known for his spooky white and black face paint and suspicious jar of teeth (that may or may not have come from a previous victim), Danhausen has been known to freak out opponents and delight fans.  He has also formed an occasional tag team with fellow Midwest indie standout Warhorse, as Warhausen.  Who will be Danhausen's first victim in your indie promotion?
Danhausen joins Matthew Justice, Warhorse, Ace Austin, AJ Gray, Blake Christian and Alex Zayne in the Best of the Indies 2020 8-pack.  Preorders are now available for Best of the Indies 2020, Invasion 2090 and The Pitbulls Legends 2-Pack!  To preorder now CLICK HERE.
Preorders for all game editions will begin mailing by May 30th!