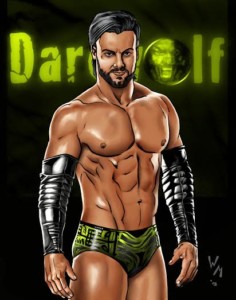 The next big name coming in the EVOLVE 2 pack is none other than high-flying part-daredevil, part werewolf, P J Black! The South African native has been traveling the world for years, but felt he was never given the opportunity to showcase his true talents. He is in EVOLVE to show the wrestling world what he can do without any restrictions!
Already in a short time in EVOLVE he has had classic encounters with Caleb Konley, Ricochet, and A R Fox. Black also received a title shot against champion Drew Galloway. Although he fell short in his title attempt, will he make good against Galloway and win the belt in YOUR game federation?
EVOLVE 2 is now ready to pre-order! The expansion pack starts mailing on April 15 along with the CAC Reunion pack, so don't shortchange yourself…get both!