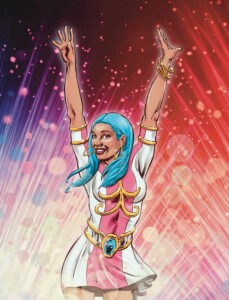 But what kind of shocks and thrills?
Who is Deva and why is she the most controversial newcomer in recent GWF history?
All the answers and much more are coming in the latest Champions of the Galaxy expansion ORIGINS 2138 which is due for exclusive release this Friday at GalactiCon 2022!
This new edition will rock the GWF to its core! It's the third and most shocking installment in the ORIGINS story arc and features a surprise bonus item as well as four main event cards that have NOT been announced! We love to save the biggest surprises so we don't spoil your fun!
The story of Deva is a first in GWF history. Her card stats will electrify!
Don't miss a second of the action! Pre-order NOW to receive your games as soon as possible! Can you guess the startling shocks that await you?
ORIGINS 2138 is now available for preorder, along with the 2022 Tragos and Thesz Hall of Fame Expansion set and the Impact Pro Wrestling Indie Expansion. The new games will have a special pre release at GalactiCon in Chicago on July 16-17 and will begin mailing in late July to all customers.  To preorder all the new sets go HERE.
If you are attending the GalactiCon in person and would like to preorder your sets, enter the coupon code GALACTICON at checkout to avoid shipping fees.  Please only use this code if you will be picking up your games in Chicago on July 16-17.