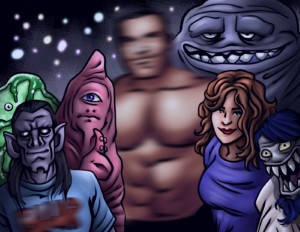 BLUR is a newcomer from Omicron with an unfortunate power. He's not fast, and he not invisible. He's just – blurry.
And making things worse, the blurrier Blur is the less focused he becomes on offense. But being blurry isn't all bad, as Blur is finding out. Opponents sometimes have a tough time hitting what is out of focus, and he's very popular with fans who love taking home photos with Blur as souvenirs. Will Blur realize his potential in FTR, or is his future in wrestling fuzzy at best?
Blur is one half of an exciting new feud being brought to FTR as part of Commissioner Sonny Rocket's The Future of Wrestling is Here campaign! Wait until you meet his rival – only with FTR 3 coming this holiday season!  FTR Set 3 will debut in December and preorders begin Black Friday November 26th.