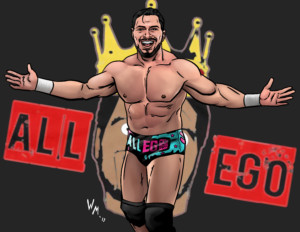 The third name in the EVOLVE 4 game edition will be happy to let you know that he is EVOLVE's biggest star!
Its "All Ego" Ethan Page. Page is an accomplished wrestler, who started his career in Canada, but has taken the US indies by storm the past few years. But it's on the mic where Ethan Page truly shines, as he is consistently one of the most entertaining parts of the EVOLVE show each time out. With the massive Gatekeepers acting as his ringside muscle, its a matter of time before he earns Evolve Wrestling gold.
While this is not Ethan Page's first Filsinger Games card, it is his first EVOLVE Wrestling card and the stats reflect the growth that Page has had in his career. This just goes to show how cool it is to collect our game cards! Page is destined for greatness in his future in the wrestling business, and getting to the top of the EVOLVE roster proves just how talented he really is.
Ethan Page joins Darby Allin and Jeff Cobb in the EVOLVE 4 8-pack, with more names coming each week in March. The game will be released at the WWN Live Experience in Orlando and will begin mailing by April 7th! Pre-order begins next week!