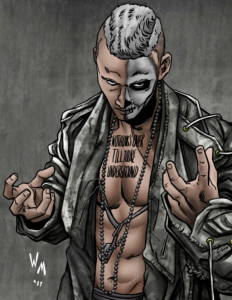 The newest name in the Evolve Wrestling 4 game edition is a wrestler who has made a big name for himself over the past year in the EVOLVE ring. Darby Allin has become one of the most popular wrestlers on the EVOLVE roster with his never say die attitude and willingness to take the highest risks to win a match.
Allin has been known to make some incredible dives onto his opponent, including his finisher the COFFIN DROP, where he drops himself backwards off the turnbuckle or sometimes even off the steel support structures of the building! Darby just recently finished an emotional feud with Ethan Page, where he proved to fans just what limits he is willing to go to vanquish his foes.
Darby Allin joins Jeff Cobb in the EVOLVE 4 8-pack, with more names coming each coming week. The game will be released at the WWNLive Experience in Orlando and will begin mailing at the beginning of April!