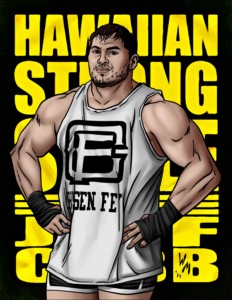 One of the most popular independent wrestling promotions has gotten even bigger!
Evolve Wrestling is now reaching more fans with all of its Live Events being broadcast on FloSlam, including this past week's landmark EVOLVE 78 and EVOLVE 79 events. Filsinger games is thrilled to continue its relationship with EVOLVE Wrestling by releasing a 4th game expansion in this very popular series.
The new 8-card set will feature 4 brand new wrestlers to the Filsinger Games universe, as well as 4 wrestlers from our other game lines that are receiving their first EVOLVE game cards. Let the speculation begin!
Leading off the set is one of the most requested game cards from Filsinger Games fans, Mr. Athletic Jeff Cobb. Cobb has been tearing up the West Coast independent scene and now has gotten a chance to wow fans on a national stage in EVOLVE with his blend of power and agility. Cobb in a short time worked his way to the top of the promotion, already garnering shots at the EVOLVE title and EVOLVE tag team titles.
Stay tuned over the course of the next few weeks as we announce more of the wrestlers that will be a part of this anticipated game edition. The game will be released at the WWN Live Experience in Orlando and will begin mailing at the beginning of April!