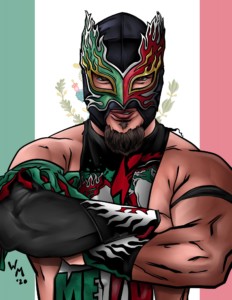 Leading off the roster of the newest Indie game edition, The Best of Mexico is one of the hottest wrestlers on the planet, Flamita!  Starting his career on the Mexican independents when he was only 18, Flamita has fought to build a name for himself as one of the best and most exciting high flyers in the entire world. While originally slated to take on the mask and persona of a famous luchador from one of largest promotions in Mexico, he instead decided to make his own name and keep his current character. This decision allowed him to break out on an international level, competing for singles titles for promotions in Japan and taking part in TV tapings for a well-known US based lucha company.
Despite his singles success, Flamita is perhaps best known as one of the best tag specialists in the world. Teaming with ROH roster member Bandido as "Mexablood", Flamita has won gold in companies the world over, including one of the topmanies in England and ROH in the US. Will Flamita team with his long time partner Bandido and rekindle his feud with the ROH's Villain Enterprises? Or will he strike out on his own as an accomplished singles wrestler, competing for cruiserweight gold the world over?
Stayed tuned each Monday for another name in this exciting 8-pack that will be released this March.