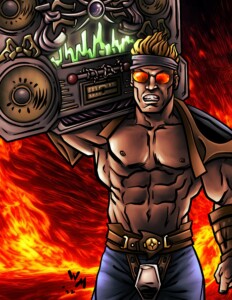 The next installment of  COTG Prime is the 2nd of 3 updates this year to FTR, the GWF's developmental territory.  As was the case last quarter the update comes with 3 game cards and a PDF handbook update on the latest happenings and team alignments in the promotion.  Here are a few questions to ponder ahead of the next FTR release:
Astarte won the FTR Championship Tournament as part of Filsinger Games Night.  How will Astarte and Sonny Rocket react to this big title win?
Totally Awesome gets an updated card.  What is the story behind this update and what new finisher will he introduce?
Splash told Stallion that he may have a solution to his frustration with Eugenics Project.  Who is the new team he plans to bring in and what does that mean for Mass and Crust?
We recently saw the debut of Riot Girl.  Will her and Sonny Rocket continue to work together?
Now that Mayham has brought in Plethador as his personal trainer, what antics will these two be up to next and how will the other Animan react?
There will be a shake up with wrestlers joining new teams.  Who will land where and what team gets a major overhaul?
A new tag team will form with unlikely partners.  Who are they and will they be able to coexist?
The answers to these questions and more are coming in the next installment of FTR.  To purchase Promoter Prime for COTG, Legends or Indies go HERE.