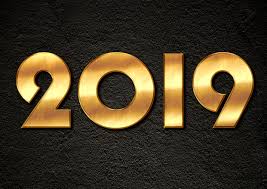 The New Year is here and with it comes the excitement of great game releases ahead!
At Filsinger Games we're now going into our 33rd year and just as strong as ever!
Even stronger. We've got three main game lines and all kinds of opportunities for expansion. I'm going to give our loyal promoters a sneak peek at what's coming in 2019 so hang on!
I'm going to start with our flagship game which is, of course, CHAMPIONS OF THE GALAXY. You can count on—like you've counted on for 33 years—the latest annual release in July. It'll be game year 2135 and counting! The amazing story of the return of GODSEND will continue to shock with new developments! On top of that look for another color update, INVASION 2089, in the second half of the year.
Our second major line is our legendary LEGENDS OF WRESTLING Card Game series. First off is our tribute to the women of wrestling with a game pack coming in February. Watch for those announcements soon! You can also look forward to not one but two Legends expansions this year! Current schedule has one for July (another astounding GalactiCon is coming!) and one during the holidays. Hey, if you're lucky, we may release another theme pack during the year, but keep watching to see what we can cook up!
Third is our BEST OF INDIES series, which starts with our BEST OF FILSINGER GAMES starter set. We will release new wrestlers in expansion packs to give you more new blood in your game feds. We LOVE releasing game cards for Indy wrestlers and not just for our fans, but for the Indy wrestlers themselves. They love it! To them an official FG card is like a Topp's baseball card! We also love to focus the spotlight on Indy promotions throughout the U.S. and world. Watch for a couple BEST OF INDIES packs coming in 2019!
For other game companies that would be more than enough to release in one year, but not us! We've got a few other card packs we're working on and when we have details you'll be the first to know! And maybe not just cards but another surprise or two as well.
Our goal this year, as always, is to conquer the game galaxy! To that end we will be involved in some promotions to get the word out to wrestling fans. Loyal promoters know our games are the best and we want to continue to spread the word at live events and media promotions. YOU CAN HELP! If you plan to attend any live wrestling shows this year and can help sell our merchandise at a table, let us know. Maybe we can work something out. We are hoping to have a cool promotion at the Cauliflower Alley Club reunion this spring.
In addition, if you can post articles or reviews of our games, let us know that also. And if you can help us schedule any podcast appearances or magazine articles, contact us. Our loyal fans are in the trenches and we know that many of you have some great contacts. If we work together we can conquer the game galaxy anew in 2019!
Our team at Federation Headquarters is as strong as ever, composed mainly of game fans that love creating our game cards as much as fans (and we ourselves) love playing them!
Until the Galactic Punisher gets his color update (it's coming!)…
TOM