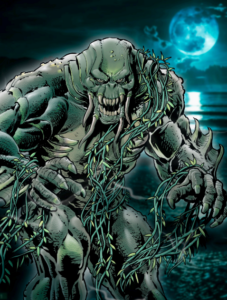 The Gladiators have huge problems ahead in more ways than one when QUAGMIRE enters the GWF in ORIGINS 2139!
The AniMen vs. Gladiators blood feud will be rekindled with the dramatic introduction of this monstrous newcomer. The immovable object QUAGMIRE will bring deadly maneuvers like his DELUGE finisher to the GWF!
Tempest is fighting power against power by recruiting this intimidating swampland creature from the bogs of Andromeda to take on Siege and Apex!
Tempest and Quagmire will form a new tag team called Tsunami and they plan to be a tidal wave that overwhelms Gladiators Siege!
But what about the Battle for Castilex? Can the Gladiators survive an attack by Tempest and Quagmire with enemies coming at them from all directions?
The answers will shock you in ORIGINS 2139 coming in July!