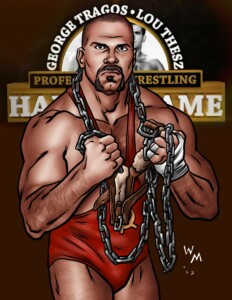 The Tragos and Thesz Hall of Fame Set 4 already has some dream names included, but now its time to add a nightmare!  "The Russian Nightmare" Nikita Koloff is the newest name to join this game edition.  Koloff came into fame in one of the most prominent southern territories, when he teamed with his uncle Ivan Koloff.  The evil Russians were dispised by fans during the time of the Cold War. The Koloffs feuded with many of the top teams of the day like the Road Warriors and the Rock 'n' Roll Express.  Although it was a singles feud that would be Nikita's most famous when his attack on fan favorite Magnum TA resulted in their highly regarded Best of 7 series, which was ultimately won by Koloff much to the fans dismay.  However, through that series Magnum TA did earn Koloff's respect and that eventually turned him into a fan favorite.  Whether as an evil Russian or a fan favorite, Koloff is sure to be a forced to be reckoned with in your Legends fed, especially when he is booked in his specialty Russian Chain match!
Nikita Koloff joins Jim Ross, The Great Malenko and Wilbur Snyder in The Tragos and Thesz Hall of Fame Expansion Set 4.  TNT Set 4 is now available for preorder, along with GWF Origins 2139 and Impact Pro Wrestling Set 2. The new games will have a special pre release at GalactiCon in Waterloo, IA on July 20-23 and will begin mailing in late July to all customers.  To preorder all the new sets go HERE.
If you are attending the GalactiCon in person and would like to preorder your sets, enter the coupon code GALACTICON at checkout to avoid shipping fees.  Please only use this code if you will be picking up your games in Iowa on July 20-23.