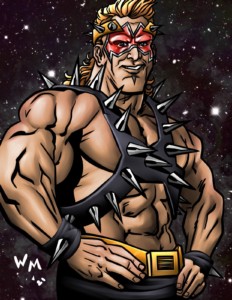 Spike has undergone an Aethran Cleansing! As 2091 dawns, Brute and Massacre have joined forces with none other than Thantos and Krakan. Given an ultimatum by his fellow Gladiators, "join us or be our enemy," Spike decided on the latter and went knocking on Omega's door for a place with the Defenders of the Galaxy.
Fresh off his Cleansing, Spike has sworn loyalty to Omega and his new teammates. Plus, he brings an upgraded finishing move, the MEGADESTROYER, with him!
Will this be enough to battle The Unholy Alliance? Will Spike be able to defeat his former Gladiator brethren? And how will he meet the challenge of newcomer Mayhem? You can answer all these questions yourself, promoter, when Wargames 2091: Reimagined arrives in March. Pre-order available later this week!