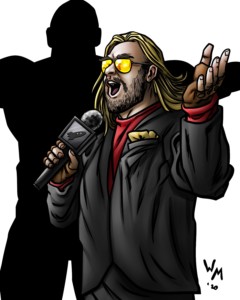 Johnny Rocket is the hardest working man on Kronos. He interviews the wrestlers, hosts the federation's biggest events, and still finds time to manage his Rocket Men at ringside. Go Johnny Go!
Johnny Rocket is the ultimate hype man! And he proves it with his incredible new action chart YOU roll on when Johnny introduces his wrestlers to the ring for their biggest matches! Prepare for blast off with Johnny Rocket!
Johnny Rocket is back and is part of Champions of the Galaxy Prime for Quarter 3 2020, which will begin mailing to subscribers in late September!