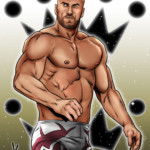 That's right fans! We're starting teasers off like kings with Ring of Honor Legends CHRIS HERO aka "THAT YOUNG KNOCKOUT KID" and CLAUDIO CASTAGNOLI! The Kings of Wrestling make their debuts in the ROH Wrestling game in December and your tag team division will never be the same!
Faithful ROH fans and Filsinger Games fans alike will appreciate these carefully designed game cards, jam packed with all the Kings most famous moves! You'll love Claudio's unique tag card featuring three classic finishers! Chris Hero is armed with his famous ROLLING ELBOW SMASH. Katie bar the door when Chris loads it up for a devastating LOADED ROLLING ELBOW! It's all here in the ROH Legends of Honor 6 pack, fit for a king!
LEGENDS OF HONOR will be released exclusively on December 14 at FINAL BATTLE '13 in New York and starts mailing on December 15 to loyal game fans! Watch for info on how to pre-order in November!