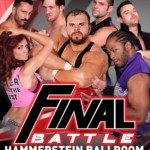 The drama builds!
Our latest RING OF HONOR expansion pack will be our best yet featuring all-time ROH legends like Claudio Castagnoli and Chris Hero with more stellar
names to be announced!
This awesome 6-pack will get the dramatic release it deserves exclusively at FINAL BATTLE on December 14 at the Hammerstein Ballroom in New York City! The game will start mailing on December 16 to loyal game fans!
This will be an incredible holiday season from Filsinger Games and LEGENDS OF HONOR is one of our proudest accomplishments and it's for YOU—the greatest wrestling fans in the world! Keep watching this site for more sneak previews of game cards and info on how to pre-order!