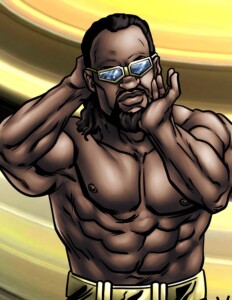 LORD NEXUS suffered severe neck trauma from the vicious assault perpetrated by Total Anarchy in late 2116. While everyone knew that he was hurt, the full extent of his injuries were not made public. While CWF officials put on a good public face, Nexus initially lost sensation in his extremities and had issues with balance and was unable to perform simple motor skills, like making a fist. Medical experts put his chances of a return to the ring at less than five percent.
Not only did LORD NEXUS beat the odds, but he did so in record time. He went through his rehab like a man possessed. While he has been forced to alter his style slightly at the behest of doctors, he's added strength as he makes his return to the ring.
While Oracle denies any responsibility for Total Anarchy's attack, LORD NEXUS doesn't buy it for a minute. Will LORD NEXUS get his revenge on Oracle? How will Total Anarchy's suspension weigh into the situation?
The answers come in FUTURE SHOCK 2118, the 4th installment of the Future Shock series, coming this spring. Future Shock: Centra Wrestling Federation 2118 is the latest release in our Champions of the Galaxy product line and will continue the exciting story of wrestlers from an alternate GWF timeline finding a new home in Centra.  LORD NEXUS will be one of 3 Future Shock cards that are part of the first installment of Champions of the Galaxy Prime, coming out in conjunction with Future Shock 2118.
Preorders for FUTURE SHOCK 2118, Best of the Indies 2023, Legendary Ladies 3 and Promoter Prime 2023 will begin March 24th with a release date in April.