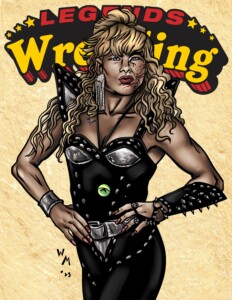 The niece of Vivian Vachon and daughter of Paul "Butcher" Vachon, Luna Vachon became a true legend of the squared circle in her own right.  She trained under the watchful eye of her aunt and The Fabulous Moolah, giving her a firm foundation in the grappling game.  Her unique look of a half shaved head and facepaint certain made her stood out among women wrestlers of the day.
She would first make her mark in Florida, before debuting in the most popular wrestling promotion in the world in 1993.  Although she was used mostly in a managerial capacity at a time that women's wrestling was not heavily featured, she still made an indelible mark on the industry and inspired many future alternative women's wrestlers. Luna Vachon may have been ahead of her time, but she was a legend in every sense of the word.
Preorder Legendary Ladies 3, Best of the Indies 2023 and FUTURE SHOCK 2118 go HERE.
To check out all of the Promoter Prime options for 2023 go HERE.
Legendary Ladies 3, Best of the Indies 2023 and Future Shock 2118 and the 1st installment of Promoter Prime will begin shipping in late April.