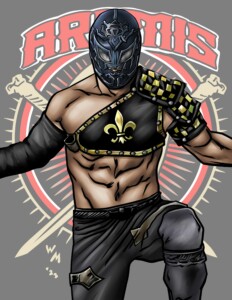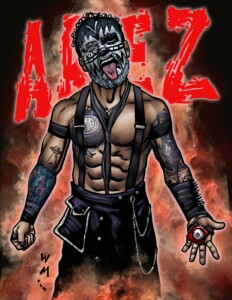 The last 2 names to join the Best of the Indies 2023 lineup is one of the most popular feuds in Mexico, Aramis and Arez.
With more than a decade worth of experience and not yet 25 years old, Aramis is a Luchador worth watching. The masked high-flier is a risk taker, leaving fans breathless as he soars through the air for an amazing move on his opponent. Aramis can be seen in Mexico, the west coast, mid west, and he's also toured Europe. Aramis' agility and daredevil style could take him to the top of the cruiserweight division!
Arez is another amazing Luchador, wearing face paint inspired by a famous comic book anti-hero, that is doing things seemingly in every match that no one has seen before. While his speed and agility is always evident, Arez is also a very technical grappler and can even go extreme in a death match. Arez has been stunning fans in Mexico, Germany, and across the USA. Called the Master of Strange Style, Arez and fellow Best of the Indies set mate Aramis have a rivalry and is a match you will want to book!
Aramis and Arez join Michael Oku, Richard Holliday, Kerry Morton, Alan Angels, Starboy Charlie and Titus Alexander in Best of the Indies 2023, an 8 card expansion set featuring the best names in independent wrestling today.
Preorder Best of the Indies 2023, Legendary Ladies 3 and FUTURE SHOCK 2118 go HERE.
To check out all of the Promoter Prime options for 2023 go HERE.
Legendary Ladies 3, Best of the Indies 2023 and Future Shock 2118 and the 1st installment of Promoter Prime will begin shipping in late April.