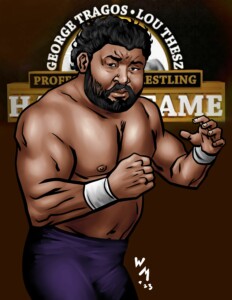 The 6th name in the Tragos and Thesz Hall of Fame Set 4 was a 2008 inductee into the hall, Masa Saito. Saito had an accomplished amateur background, and competed for Japan in freestyle wrestling in the 1964 Olympic games.  While certainly well known for his tag pairings with Mr. Fuji and Ivan Koloff, Masa Saito was also and accomplished singles wrestler. He faced Jack Brisco for a very prestigious singles title in Florida, and would go on to win his share of singles championship gold. A technically skilled wrestler, he was also known for his very physical style which earned him the moniker "Mr. Torture". Now promoters with this game edition and Legends Expansion Set X will have the choice of having Saito torture his opponents in singles or tag team matches!
Masa Saito joins Nikita Koloff, Paul Orndorff, Jim Ross, The Great Malenko and Wilbur Snyder in The Tragos and Thesz Hall of Fame Expansion Set 4.  TNT Set 4 is now available for preorder, along with GWF Origins 2139 and Impact Pro Wrestling Set 2. The new games will have a special pre release at GalactiCon in Waterloo, IA on July 20-23 and will begin mailing in late July to all customers.  To preorder all the new sets go HERE.
If you are attending the GalactiCon in person and would like to preorder your sets, enter the coupon code GALACTICON at checkout to avoid shipping fees.  Please only use this code if you will be picking up your games in Iowa on July 20-23.