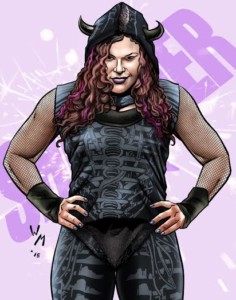 The next athlete to be a part of the Shimmer 3 game edition is the biggest one…literally!
At 6 feet and 200 lbs, Vanessa Kraven has a big size advantage over her Shimmer competition. The powerhouse from Quebec, Canada has been dominating competition throughout North America and Japan, and earned herself the nick name "Mountain." Which Shimmer Athlete will be the first to step up to Kraven and try to avoid her dreaded Sitout Powerbomb?
The excitement mounts as Shimmer 3 (8-pack) is coming in October! Keep watching for more sneak previews and you better believe—the Diva Revolution is right here!