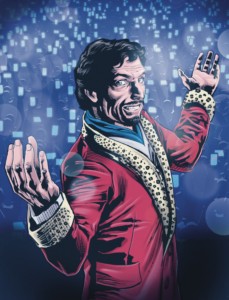 The self-proclaimed "man who has it all" is invading the GWF in 2138!
Mr. Everything is a talented wrestler who has won major belts in other promotions. Now he plans to do the same in the GWF but what is he bitter about?
" Commander Sam and Massif blacklisted me from the FDF." claims Mr Everything. "Now I'm going to prove to them I'm the best there is by beating their whole team!"
Can Mr. Everything pull it off? Is it true that he was blacklisted? And who recruited him to join the GWF?
The drama builds as the new Champions of the Galaxy expansion ORIGINS 2138 is coming your way in just a few weeks! Be sure to pre-order so you don't miss anything and make plans to be at GalactCon in Chicago in July 15-17 for the early release!