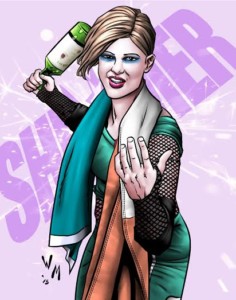 The next woman to be announced for the upcoming Shimmer game pack comes all the way from Belfast, Northern Ireland. It's Rhia O'Reilly!
Rhia has been a part of the Shimmer roster since 2011.  Given that she has trained and wrestled extensively on both sides of the Atlantic, she can mix it up with a variety of styles of wrestlers.  And since she's from Belfest, you know she is ready for a good fight!  She usually goes it alone, but in 2014 did form a brief partnership with the maniacal Saraya Knight, to form a brutal tag team that challenged for the Shimmer tag team titles.
Shimmer 3 is coming your way in October. Keep watching for updates and always remember: THE DIVA REVOLUTION IS RIGHT HERE!