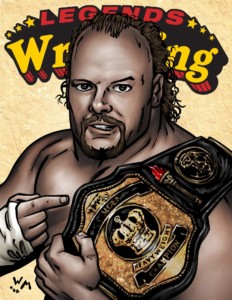 Dirty White Boy joins the Legends of Wrestling roster in the Q2 release of Promoter Prime!
Tony Anthony began his career under a mask as Grappler #2 and found tag team success throughout the territories with Len Denton. But it was his time in Alabama that brought him notoriety as a singles competitor where he feuded with the likes of Tom Prichard – even taking part in one of the most legendary angles of the 80s: "I'd like to talk to Tom". Dirty White Boy would spend time in Memphis and Smoky Mountain as one of the top singles competitors in the territory – also teaming with Tracy Smothers as The Thugs. He would go on to have two stints – as different characters – in the dominant promotion of the 90s.
Whether as a heel or babyface, Anthony, always knew just what to do and when to do it to get the reaction he wanted and captured multiple titles due to his acumen. A brawler at heart, Dirty White Boy will make a fine addition to any legends fed.
Promoter Prime Q2 releases will drop in late May along with the Legends Enhancement 4 pack, War Games 2092 and Best of the Indies 2022.