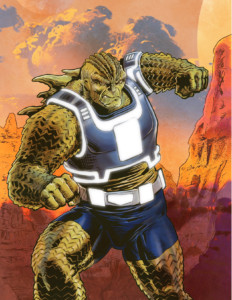 From the weird swamp world of Merapis comes their greatest fighter (at least according to him) in the form of ORRUS THE UNSTOPPABLE!
Loyal game fans know that a version of Orrus made his debut in the Best of Champions of the Galaxy commemorative starter set released last year. But THIS is the real thing!
Can you connect all the dots? Do you know why Orrus is coming to the GWF?
What's the story here? How does it involve the Basilisk? What team will Orrus join? Is he a Hero or a Heel?
And who is arriving with him from Merapis? Never fear! You will learn the answer to that question next week!
The thrills continue as ORIGINS 2137 is set to invade your mailbox (and /or email box) in July!