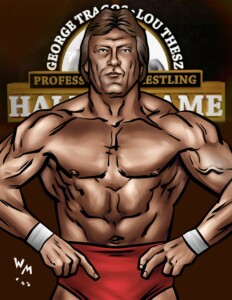 The 5th member of the TNT Hall of Fame Set 4 roster is truly a "Wonderful" addition to the line up, its "Mr. Wonderful" Paul Orndorff. Whether it was as an admired hero or despised rulebreaker, Paul Orndorff was a true athlete, with one of the greatest physiques in the sport. Orndorff debuted in 1976 in the Memphis promotion, feuding with the top star in the area and winning his first of many singles titles. Eventually Orndorff moved to the world's preeminent wrestling promotion based in the Northeast of the United States and was immediately thrust into the main event spotlight with Roddy Piper as his manager, feuding with the promotion's biggest star. Piper and Orndorff,
together with their bodyguard at the time Bob Orton Jr., headlined perhaps the most important wrestling card in history. In the 1990's Paul
moved onto another national promotion and won single gold one last time to cement his legacy before retiring in 2001. In 2017, he was inducted into the George Tragos/Lou Thesz Professional Wrestling Hall of Fame.
Paul Orndorff joins Nikita Koloff, Jim Ross, The Great Malenko and Wilbur Snyder in The Tragos and Thesz Hall of Fame Expansion Set 4.  TNT Set 4 is now available for preorder, along with GWF Origins 2139 and Impact Pro Wrestling Set 2. The new games will have a special pre release at GalactiCon in Waterloo, IA on July 20-23 and will begin mailing in late July to all customers.  To preorder all the new sets go HERE.
If you are attending the GalactiCon in person and would like to preorder your sets, enter the coupon code GALACTICON at checkout to avoid shipping fees.  Please only use this code if you will be picking up your games in Iowa on July 20-23.