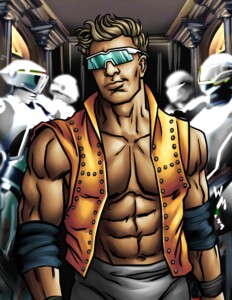 The heir to the legacy of one of Tarkania's oldest families, PEERAGE brings incredible talent and an aristocratic attitude to the Centra Wrestling Federation.  PEERAGE has been training on Paradise Island for years with his childhood friend, Prince of the Rose.  PEERAGE may be the most confident wrestler on Centra, and that's saying something in a federation with Mister Centra, Oracle, Murdok and the Prime Colonizer.
But what does this mean for the Future Shock team?  Are they gaining a top star, or losing one instead?  Will Magnus the Magnanimous be able to handle the inevitable changes coming to his squad?
The answers come in FUTURE SHOCK 2118, the 4th installment of the Future Shock series, coming this spring. Future Shock: Centra Wrestling Federation 2118 is the latest release in our Champions of the Galaxy product line and will continue the exciting story of wrestlers from an alternate GWF timeline finding a new home in Centra. Preorders for FUTURE SHOCK 2118, Best of the Indies 2023 and Legendary Ladies 3 will go on sale Mid-March with a release date in April.