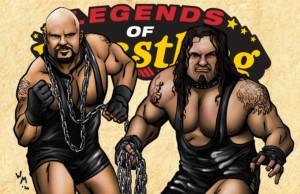 The Pitbulls are unleashed on the Legends tag team division! The powerhouses from the Back Alleys of South Philadelphia are heading to Legends and are looking for a fight! "The Original Mad Dogs o' War" will look to battle old rivals such as Stevie Richards and 2 Cold Scorpio. And you can bet they will have their sites set on Shane Douglas, who put Pitbull #1 out of action for nearly a year with a neck injury! Will Francine accompany The Pitbulls or Douglas? It's up to you, promoter! See how The Pitbulls do in your fed, when this special two-pack comes out at the end of May!
Preorders are now available for The Pitbulls Legends 2-Pack, Best of the Indies 2020 and Invasion 2090!  To preorder now CLICK HERE.
Preorders for all game editions will begin mailing by May 30th!