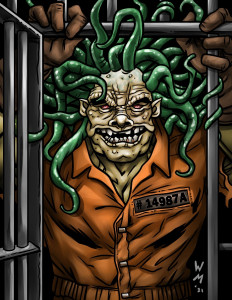 Doomsayer's latest recruit is steeped in controversy! A product of the Polaris penal system, Tendron narrowly escaped death after a grievous head injury during a shootout with police. Doomsayer may have saved his life, but at what cost? The tentacled pate of the self-styled Destroyer is the source of much contention. Tendron uses it for his finisher to smother opponents!
How will the Supreme Gods deal with this newcomer? Will Tendron's violent tendencies get in the way of success for his team with Tongsoon? As always, it's up to you, Promoter!
Preorder is available now for War Games 2091, along with Legends Expansion VII and the IWTV Indies Expansion set.  You can preorder everything HERE.