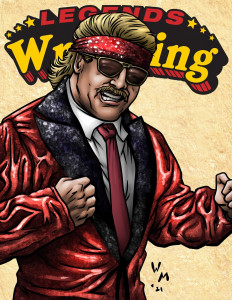 Johnny Valiant leads his charges, Brutus Beefcake and Greg Valentine, to battle in the squared circle. This dominant team held the tag team titles of the biggest company in the land for nearly 8 months and engaged in some of the best tag team action in the Northeast. Their partnership may have only lasted 2 years, but in that time, they certainly left their mark, whether with brutal in-ring action, dastardly deeds out of the ring, or even the lit cigar of the luscious one.
You can unite this dream team with their manager when brand new cards for Johnny Valiant and Greg Valentine join the previously announced Brutus Beefcake as the Legends Promoter Prime 2021 first-quarter releases.  Promoters can now relive one of the hottest feuds of 1986 as the Brutus Beefcake and Greg Valentine can challenge Davey Boy Smith and Dynamite Kid, or will you take this chance to pit them against teams of the same era once separated by promotion – like the Rock 'n' Roll Express or the Midnight Express? The choice is yours!
All of our new releases are available to order and will ship immediately.  This includes Legends Expansion VII, War Games 2091, and the IWTV Indies Expansion set.  You can order everything HERE.  Also, don't forget to subscribe to Promoter Prime 2021, our quarterly card subscription product.