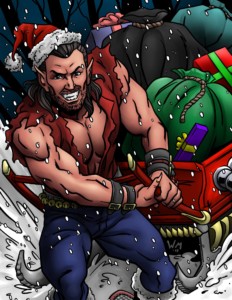 Santa Wolf is beginning to check his list to see what Promoters have been naughty or nice.  The Filsinger Games Holiday releases are coming soon, starting next week and will continue until games begin shipping in December.  Keep and eye out throughout the week for teasers on our upcoming products:
Mondays – Legends fans get ready for announcements on the lineup for Legends Expansion Set 5.  This set will feature some highly requested names getting their first color card and multiple wrestlers getting their first ever Filsinger Games playing card.
Wednesdays – Champions of the Galaxy Classic fans get ready for exciting new colorized artwork for Invasion 2089.  And don't worry about any blank backs on some of these cards, as all managers without stats in the original release will have brand new charts or stats!
Fridays – The Wildcard Night with information on other things coming from the Filsinger Games universe including teasers on Q4 for Promoter Prime and some other surprises.
Preorder for all the holiday releases will begin on Black Friday November 29th. Get ready for the first announcement next Monday October 28th!