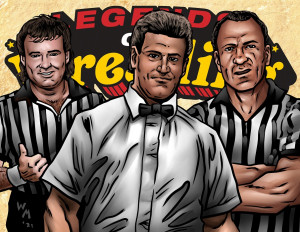 …up to you, promoter! With this special "Legends of Wrestling" referee card, the choice is yours. James Beard, Joey Marella, and Dick Woehrle are now at your disposal when you purchase the Ringside Personnel 4-pack shipping in late May.
James Beard has had an amazing career that's taken him from the hottest period of wrestling in Texas to the bright lights of the biggest promotion in the world. Whether a wild brawl or scientific contest, Beard will be ready to lay down the law and keep things fair and square.
Joey Marella is the son of the legendary Gorilla Monsoon and spent his career officiating for the biggest promotion in the land. Marella refereed one of the biggest matches of all time in Pontiac, MI, back in 1987 and also was the third man in the ring for one of his company's most acclaimed main events at Wembley Stadium in 1992. Tragically, Marella's life and career were cut short due to a car accident in 1994. LoW pays tribute to this legendary official with his addition to the 4-pack.
Dick Woehrle was one of the more noticeable refs in the industry and spent his career in the Northeast. He had no problem getting involved in matches and found himself on the receiving end more than a few maneuvers. He was a staple of main event matches held at the Philadelphia Spectrum and could be seen on TV with the biggest company around. One of the true greats of his profession, we pay tribute to Dick Woehrle with his addition to the Legends of Wrestling card game.
You can pre-order your 4-pack HERE. And don't forget the amazing Best of the Indies 2021 set. Both ship in late May.