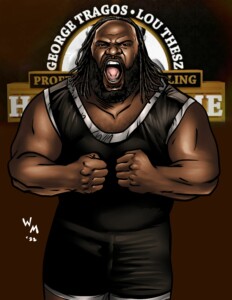 Hall of Fame Mark Henry joins the Tragos/Thesz Hall of Fame set coming this July! Mark Henry's career would be notable if it stopped at his powerlifting and weightlifting accolades alone – record-setter, medal winner, and two-time Olympian. But Mark Henry didn't stop there, he went on to become one of the most dominant forces in professional wrestling for over two decades. A multi-time world champion and main eventer, Henry provided fans with memorable moments time and again, whether as "Sexual Chocolate", the "World's Strongest Man", or the monstrous "Silverback", including one of the finest promos ever when he teased a false retirement. Henry has feuded with fellow legends like Ken Shamrock and Vader early in his career as well as teaming with D'Lo Brown. Henry also worked with Bryan Danielson in a memorable feud over the World Heavyweight Championship.  Mark Henry is an incredible performer and one of the strongest to ever do it. His name is a fitting addition to the third Tragos and Thesz Hall of Fame set!
The 2022 Tragos and Thesz Hall of Fame Expansion set is now available for preorder, along with GWF Origins 2138 and Impact Pro Wrestling Indie Expansion. The new games will have a special pre release at GalactiCon in Chicago on July 16-17 and will begin mailing in late July to all customers.  To preorder all the new sets go HERE.
If you are attending the GalactiCon in person and would like to preorder your sets, enter the coupon code GALACTICON at checkout to avoid shipping fees.  Please only use this code if you will be picking up your games in Chicago on July 16-17.