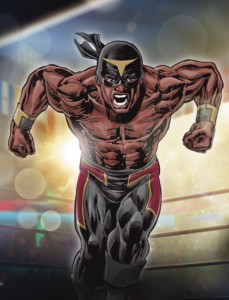 Following on the heels of Mr. Everything is Titan Power coming to the GWF in 2138. And he's also got a complaint!
Titan Power is making the claim that he has a secret about Lord Nexus that he is soon to reveal. What it could it be? What could it mean?
Titan Power is a masked man that says "Nexus might not recognize me but he knows who I am." What is this all about?
Wrestlers like the Perfect Specimen are not taking the bait. "If he has a complaint put it out in the open or just shut up about it. I've got Lord Nexus's back."
The drama builds with ORIGINS 2138 coming out in less than three weeks! The latest edition of the Champions of the Galaxy saga is fire! Pre-order so you don't miss it!