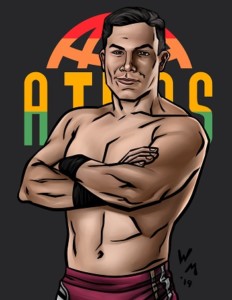 To close out the 2019 Indie wrestling card releases for Filsinger Games is the last 3 cards in the Indies prime subscription service.  Fans voted for 2 of the 3 cards in a tag team poll and Team Sea Stars, Ashley Vox and Delmi Exo, won the poll and will have cards released for the first time.  The 3rd card is another first time card release for Filsinger Games, Jake Atlas!
Although a relative newcomer to the independent wrestling landscape, Jake's background in cheerleading and gymnastics allowed him to turn heads of fans all over his home state of California. An impressive showing in the Northeast in the Spring of 2019 opened up opportunities across the country and internationally, winning the adoration of audiences both in and out of the ring.  Atlas trained at the Santino Bros school which also produced Brody King and Ray Rosas.  If the rumors are true then Jake may begin being seen by even more fans worldwide in a major promotion in 2020.
Indies prime Q4 cards will be mailed in December at the same time as our other holiday releases Legends Expansion Pack V and Invasion 2089.