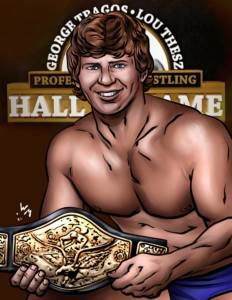 Hall of Famer Bob Backlund is the next name announced for the Tragos/Thesz Professional Wrestling Hall of Fame II set. Backlund cut his teeth as an amateur wrestler in high school and as an All-American at Waldorf Junior College in Iowa before winning the Division II NCAA Championship at North Dakota State University. Shortly after college, Backlund trained to become a professional wrestler and debuted with a popular Minnesota-based promotion. Backlund built his career in various territories around the country, making his mark in Texas, Georgia, and St. Louis before heading to the Northeast, where his greatest success was yet to come.
Five years into his incredible career, Backlund captured the top title of the biggest promotion in the country and reigned at the top for another five years before taking place in the torch-passing setup that would ignite the wrestling boom of the 80s. Backlund wrestled sporadically after losing his title and all but disappeared from the wrestling scene by the mid-80s. He reappeared for the biggest company in the United States in the early 90s where he recaptured the title before dropping it a few days later in the shortest championship match that the company had ever seen – 8 seconds.
Backlund spent his illustrious career winning hearts and minds and titles around the world. Achieving individual success in numerous promotions, Backlund also held multiple tag titles, including a reign with Jerry Brisco as his partner. He faced off against a "who's who" of opponents including Jack Brisco, Harley Race, Nick Bockwinkel, The Iron Sheik, Bob Orton Jr., Bob Roop, George "The Animal" Steele, Don Muraco, Adrian Adonis, Greg Valentine, and Ivan Koloff.
Robert Louis Backlund was a 2016 inductee into the George Tragos/Lou Thesz Professional Wrestling Hall of Fame and is a spectacular addition to the Filsinger Games Legends of Wrestling line.
Pre-Orders for this amazing set and GWF Origins 2137 will open next Friday, June 25th.