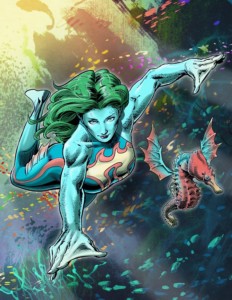 The drama never ends as newcomer Hyla joins the AniMen team in ORIGINS 2137!
And she's not alone! Young GWF fans have missed having Buster from The Crime Stoppers around. Well, here comes Flonch, a flying seahorse! Imagine the distractions he will create!
Hyla is soft-spoken and dedicated. Who will she feud against in 2137? We can't tell you that yet. It would give away too much!
You will meet her partner next week in our next sneak preview. Will loners like Wolf and Monolith welcome the newcomers?
ORIGINS 2137 will be released in July, along with an amazing Bonus Pack! You've never seen anything like it as Champions of the Galaxy continues to march forward as one of the longest-running game sagas in history!