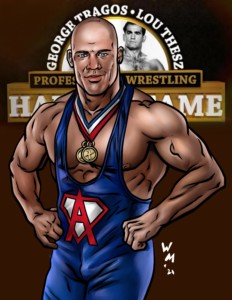 Olympic Gold Medalist and multi-time Hall of Famer Kurt Angle is coming to the Tragos-Thesz Professional Wrestling Hall of Fame Set II! The Pittsburgh, PA native began wrestling at the age of seven and is one of four competitors in history to complete an amateur wrestling Grand Slam – winning the Junior Nationals, NCAA Championship, World Championships, and an Olympic Gold Medal. Angle famously won his gold medal with a broken freakin' neck in 1996. He truly is one of the greatest amateur wrestlers of all time and was even named the greatest shoot wrestler ever in 2006 by USA Wrestling.
After winning his gold medal, it didn't take long for the world of professional wrestling to come calling. An appearance with a Philadelphia-based promotion ended in controversy, and it looked as though Angle's foray into pro-wrestling might well end before it even started. Another opportunity, however, with the biggest company in the world changed his mind, and he went on to become one of the greatest competitors the squared circle has ever seen. Following a creed of intensity, integrity, and intelligence, Angle would win the company's top championship within a year of debuting. He shared the ring with the biggest stars of his generation and engaged in many memorable feuds, amassing a nearly unparalleled collection of championships and accolades along the way. The Wrestling Machine was a main event competitor wherever he went. Despite injuries and battles with addiction, Angle maintained main event status for the vast majority of his 20-plus year career.
The Tragos-Thesz Professional Wrestling Hall of Fame Set II is now available for pre order.  GWF Origins 2137 along with a bonus pack of 4 collectible items is also available for preorder.  The 2137 game edition and the bonus pack are available separately and also as a package deal.  To order all these new items go HERE.
GWF Origins 2137 and the Tragos-Thesz Set II will be released at GalactiCon on July 10th and will be mailed to customers soon afterwards.