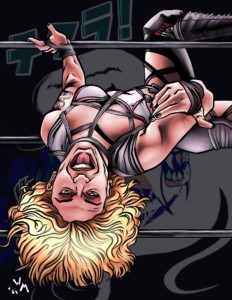 The first Austrian female professional wrestler to ever perform in Japan's revered Korakuen Hall, Thekla is an international talent in every sense of the word. A 4-year pro, Thekla got her start on the underground wrestling scene in Vienna before heading to Japan and joining the roster of one of the more significant joshi promotions. She spent the better part of 2020 and 2021 making her mark in Japan and feuded with one of the top stars in her home promotion, culminating in a bloody and acclaimed bout. Thekla also won a unique triangle championship – defended only in 3-way dances – and carried it for nearly 100 days. Her unique style is born of the true heart of an artist – she designs all her own gear and t-shirts – and her in-ring style shows a flair for the dramatic and dark. Thekla has also tagged with set-mate AKARI on a few occasions when not working for her home base promotion. Whether teaming up or riding solo, Thekla is sure to be a unique addition to your promotion!
"La Ninja Pelirroja" (The Redheaded Ninja), AKARI hails from Chile but has spent most of her young career wrestling exclusively in Japan. Starting out on the undercard and finding herself on the losing end more often than not, AKARI turned things around in 2021 and became the current holder of the Princess of Pro Wrestling Championship. With her unique style and dramatic entrance, AKARI will undoubtedly garner attention before the bell even rings, but she is not to be underestimated once it does.
AKARI and Thekla are both coming to Indies Prime 2021 in Q4, which will ship with the holiday releases in mid-December.  The 2021 Filsinger Games Holiday Releases are now available for Preorder! You can order all of the newest game items right now HERE. You won't want to miss the Women of the Indies – International Edition, FTR: Screwjob, Legends of Wrestling Expansion VIII, or the Lance Russell Special Edition Card. Get your order in today!