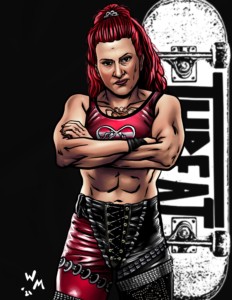 Thrash with a dash of class, "Wild Child" Jody Threat has a bright future ahead of her – perhaps as bright as her red locks. The Toronto native didn't start her in-ring career until her late 20s but she didn't need long to make a name for herself after training at Tyson Dux's academy. She was even chosen as Trish Stratus' training partner when Stratus came back for a match on one of the biggest stages of all.
Threat has backed down from no one and her extreme sport background, deceptive strength, and smash mouth style have earned her many fans and quite a few victories. Whether tagging with Allie Kat as the Punk Rock Pussycats, taking on Delilah Doom, Allysin Kay, or Thunderkitty or mixing it up with men like 1 Called Manders, Josh Alexander, or Warhorse, Jody Threat is a force to be reckoned with and it's only a matter to time before she gets an even brighter spotlight.
Jody Threat joins Masha Slamovich and Hyan as names announced for the Women of the Indies 2021 game edition. That set, along with Legends of Wrestling Expansion VIII, and FTR 3 will all be available for pre-order on Black Friday November 26th and begins shipping in December.