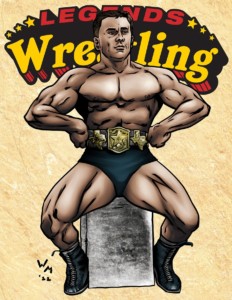 Pepper Gomez gets a color update in Legends Expansion IX. The popular blue-collar Latino babyface captured numerous titles throughout his career and was always a main event-worthy talent. Prior to wrestling, Gomez had participated in multiple bodybuilding competitions and maintained his impressive physique for the bulk of his career. His incredible abdominal muscles allowed him to survive such feats as having a VW Beetle driven over his stomach! Tho Gomez worked extensively in the Dallas, Minneapolis, and Indianapolis territories, it's likely his legendary run in San Francisco that put him on the map. His sell-out feud with Ray Stevens is an all-timer if ever there was one. On multiple occasions, they filled the legendary Cow Palace after Stevens double-crossed Gomez and hit his signature "Bombs Away" from the top of a ladder – not on the cast-iron stomach, but Gomez's throat leaving Gomez coughing up blood and writhing in pain on the mat. Pepper Gomez was undoubtedly one of his generation's most popular babyface competitors and rallied crowds from Dallas to San Francisco to Portland, to Minneapolis, to Indianapolis – even Florida and Boston – to his side. An all-time legend, to be sure, Pepper Gomez is a more than worthy addition to Legends Expansion IX!
Legends Expansion IX, Best of Indies Tag Teams 2022, KRONOS: Return to Civilization, and the 1st quarter of Promoter Prime will begin shipping in late March.
Preorder the 3 new game editions HERE.
To check out all of the Promoter Prime options for 2022 go HERE.