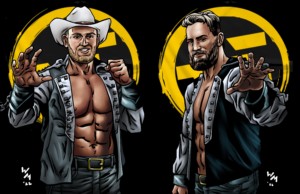 Ross and Marshall Von Erich are 3rd-generation wrestlers hailing from the most storied family in wrestling history. Trained by their father and fellow Hall of Fame talent, the legendary Harley Race, the brothers debuted in Japan in 2012. Gifted athletes with their pedigree don't usually have to pay the dues that these two have spent the past decade paying. But Ross and Marshall have earned their way into top spots with numerous promotions and are generally considered one of the best tag teams around.
Ross is the team's strategist – scouting opponents, looking for weaknesses, and striking when opportunity favors. His hybrid style incorporates brawling, grappling, and BJJ mat work. Of course, much like his father, Ross also has no problem performing an array of uncanny aerial moves.
Marshall, the younger of the two, is a certified Hawaiian Hoss! His explosive power belies his incredible speed and majestic vertical leap – possessing one of the best dropkicks in wrestling. His signature moonsault is particularly devastating from this 250 pounder.
Both brothers pay homage to their family's deep history in the squared circle with multiple variations of the famed Iron Claw.
Ross and Marshall Von Erich are part of the Best of the Indies Tag Team 2022 game edition that will debut this March.