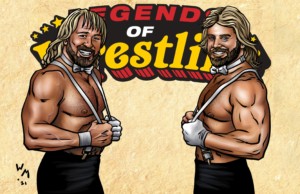 Everybody wants you when you're Stan Lane and Steve Keirn, the Fabulous Ones!
Brought together by the inimitable Jackie Fargo in 1982, Stan and Steve were given main-event attention and rocketed to the top of the Memphis territory in short order. The innovative use of music videos and Fargo's endorsement created all the buzz the team needed before they even stepped foot in a ring. The women wanted to be with them, and the men wanted to be them. It gave the "pretty boy" babyface team all the support they needed to eventually have 18 different tag title reigns in the territory alone. They squared off with talent as diverse as The Midnight Express (Dennis Condrey & Randy Rose), Bobby Eaton & Sweet Brown Sugar, and more. Still, it was their legendary feuds with the Sheepherders and the Moondogs that left their mark… and tables and chairs and buckets of blood on arena floors everywhere.
The pair would see further success in the Minneapolis-based promotion, Florida, and the Southwest, but it was Memphis that the duo kept coming back to. It was Memphis that cemented their legacy as one of the great pairings of the 80s – the first of the pretty boy teams that could put up a fight with the best of them.
Legends of Wrestling Expansion VIII includes the Fabulous Ones, the Moondogs, Brickhouse Brown, Bill Dundee, Austin Idol, and more! Pre-orders will begin on Black Friday for this set, FTR 3, and the Women of the Indies International Edition. You won't want to miss any of these fabulous Filsinger Games expansion sets to keep your feds rocking.